Refrets
…and the myth of PLEK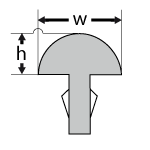 We specialise in fretwork.
Our work is the finest "custom shop" quality and is way BETTER than factory standard. We have undertaken literally hundreds of refrets and have a high level of expertise. We measure the number of refrets we carry out by the number of fret bending machines we go through! We're currently on our 5th! We're not practising on your guitar! We particularly excel in restoration work and difficult jobs.
Check these Jobs out…click on the pic to go to the step by step job detail…
We use only the best quality american HARD nickel silver fretwire in all our work. We buy our fretwire in straight lengths and bend it accurately to suit YOUR guitar. This is a highly skilled job…why trust your guitar to someone less skilled than us?
Whatever style of music you play and whatever type of guitar you own.. wear and tear is inevitable. Through time.. frets will wear as will the nut and saddle. One day you'll pick up your guitar and notice that it just isn't playing as well as it used to. It may be buzzing in places and you may have some dead spots on the neck…or a strange rattle or bad intonation. This is inevitable if you play your guitar a lot like some.. or in fact most of my customers. Low.. badly worn frets can result in poor tone and intonation resulting in buzzing notes.. dead spots and fingerboard wear due to strings and fingernails gouging the fingerboard and more often than not.. your capo clamping the strings too tightly against the frets. Get them fixed!
I use only the best quality wire available! Shipped in from the USA.. It is the hardest wire you can get. It's difficult to work with.. but you get the benefit…
…If someone refrets your guitar with soft Korean or Japanese wire… you may not be able to tell when you pick the guitar up…but just give it a couple of months.. then the wear will be back !
We cleanly and carefully remove the worn frets.. then prepare the slots before accurately installing the new wire. Careful selection of wire gauge,  (I carry over 30 different profiles), in particular matching tang width to the existing slot  is ensured before installation. Frets are then precision levelled then reprofiled to ensure accurate intonation before polishing the frets in an 8 stage process to a mirror finish.  The guitar is then given a thorough setup.
Your guitar will now play better than you would have thought possible! We improve playability and improve guitars that have been "plekked"! That's right …our work is more precise and better than that of the much lauded "PLEK" machine. Do you want a computer printout telling you how high your 8th fret is compared to the 14th?…or do you want your guitar to play the best it can play with your frets levelled, profiled and polished to the highest possible standard? The "PLEK" thing is the emperor's new clothes of the guitar world (apart from the handmade guitar scam…see another rant on another day for that explanation). It's a machine for mass production facilities who churn out 100s of guitars every day. It makes sense to Gibson and other mass producers. To be fair, even the most skilled craftsman would not be able to do a fret level and reprofile to the same standard every 30 mins for 8 hours a day! The "PLEK" machine can do this but… it can't do what we do!. We carefully measure, level and reprofile your frets but we read the neck of the guitar and evaluate each guitar as an individual instrument. Any anomolies are addressed and corrected with great care and attention. Try us once, tell all your guitar buddies and you'll never go anywhere else.
For more information about the fretwire we use see HERE